A flurry of tornadoes swept through central Iowa, flattening buildings and damaging the courthouse in Marshalltown and hitting an agricultural machinery plant in Pella as people were working. Houses and other structures were also damaged in Bondurant.
Another strong tornado was reported northeast of Pella and another near Marshalltown. Many of them were without power; Alliant Energy reported 6,800 homes and businesses were without electricity. The family sought shelter in the building's basement and heard "cracking and booms and explosions" as the tornado passed.
Pella Regional Health Center spokeswoman Billie Rhamy said seven people injured at the Vermeer plant were treated at the hospital. She said Marshalltown's building housing its local communications system was damaged.
The city had activated its tornado siren and most staff were in underground shelters when the storm hit, but huge sheets of metal were left scattered through a vehicle park, ripping a hole in the side of a building, overturning cars and piling them onto others.
Additional funnels were reported east of Des Moines past Altoona, Prairie City and Colfax.
Vermeer Manufacturing spokeswoman Liz Sporrer confirmed by email the company was hit.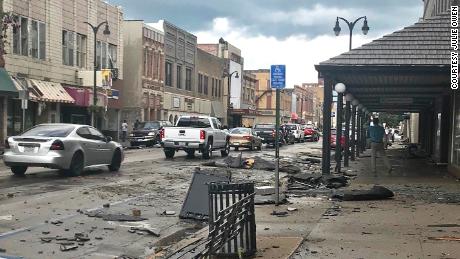 Tornadoes Strike Several Iowa Towns, Leaving Significant Damage
At least six people have been injured after several tornadoes ripped through Iowa, with the fierce storms leaving a path of destruction in their wake. Preliminary reports indicate downtown Marshalltown suffered heavy damage.
Video showed the tornado taking off the iconic cupola of the Marshall County Courthouse, a limestone building on the National Register of Historic Places.
Alex Krull, a meteorologist with the service in Des Moines, said Thursday afternoon that forecasting models produced in the morning showed only a slight chance of strong thunderstorms later in the day.
'This morning, it didn't look like tornadic supercells were possible, ' Krull said.
Krull said the weather service expected a severe weather threat to remain in effect through 7 p.m.to 8 p.m.as the storms moved east and north.