Vans painted in silver and pink drove the boys, aged 11 to 16, and their 25-year-old coach, out of the hospital where they have stayed since last week's worldwide effort to extricate them from a flooded cave complex where they had been trapped.
A health official said all 12 members of the Wild Boar soccer team, plus their 25-year-old coach, are in good health physically and emotionally.
The boys, who sported crisp haircuts, had gained an average of 3kg (6.6 lb) each since the rescue, and rain through confidence-building exercises ahead of Wednesday's event, the hospital director said.
"It's just a miracle that happened". "I had to pick up a Japanese reporter from the airport at 2 a.m.", said tour operator Manop Netsuwan.
"Everyone was very sad", Ekkapol said of the death.
"At the time we were not scared, because we thought the water would go down and someone would rescue us", he said. We were so happy.
"We weren't sure if it was true or not, so we stopped talking and listened", Adul said.
Asked about what they were doing in the cave. "We kept drinking water to fill our belly", said Ekapol.
The coach clarified that they could all swim, contrary to reports.
They were found almost two weeks after disappearing, having survived by drinking the water dripping off the caves roof that is naturally filtered.
But after the flash floods, the boys and their coach ran deep inside the cave, where they became trapped. He said, "I was afraid".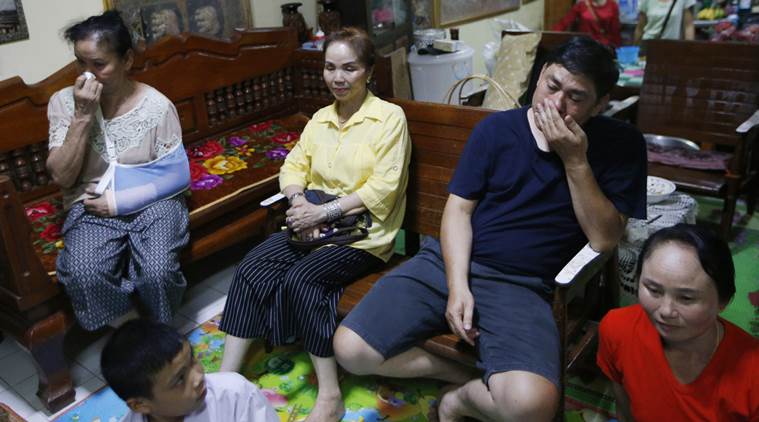 Thai cave boys leave hospital and give first TV interview since being rescued
Coach Ake confirmed they had no food as they had eaten at the football ground but were able to drink water from the walls of the cave.
They wore T-shirts emblazoned with a red graphic of a wild boar - the name of their team - and carried footballs that they also kicked gently.
Using a flashlight, one or two boys went to the edge of the water, yelling "Hello".
Since the boys are a part of a junior football team, they were asked whether they saw the FIFA World Cup final, which was held on July 15, and all of them said they did watch it and it was exciting.
All said they want to apologize to their parents, most of whom they had not informed in advance about the trek to the cave after soccer practice.
The authorities have been concerned about the impact of sudden fame and media attention on the boys' mental health, so Wednesday's news conference will be carefully controlled.
Ministry of Health/Chiang Rai Prachanukroh Hospital/AP The boys recovering in hospital.
Officials say the boys, whose ages range from 11 to 16, and their coach are all in good mental and physical health, but doctors remain anxious about any long-term psychological trauma from their two-week long confinement.
"The media know that the children are in a hard situation, they have overcome peril and if you ask risky questions then it could break the law", Tawatchai Thaikaew, deputy permanent secretary at the Justice Ministry, told reporters on Wednesday.
Vincent Thian/AP A mini football pitch had been set up at the press conference. "We want the boys to have regular lives and go back to school and.to have time with families and activities they like", said psychologist Patchaneewan Inta.