But protesters suspect that the communist government will award Chinese investors leases in the three economic zones in the north-east, south-east and south-west of the country, and that this would be a pretext for Chinese control over Vietnamese land.
China's embassy in Hanoi has warned its citizens to be careful, referring to the protests as "illegal gatherings" that had included some "anti-China content".
The draft law that became the reason for the rallies, would allow 99-year concessions in planned special economic zones in Vietnam, which some view as deals favorable to foreign and specifically Chinese firms.
Online newspaper VnExpress quoted chairwoman of the assembly Nguyen Thi Kim Ngan as telling legislators that some people misunderstood the nature of the law and thus carried out extremist activities.
The draft law on the SEZs was scheduled to be passed this week, but on Monday, June 11, the National Assembly voted to delay the law passage until the next session in October, the Associated Press reported.
On Sunday, many protesters also blocked a section of National Highway 1, set cars on fire and threw rocks, as well as petrol bombs, at the police, according to Huynh Van Dien, chairman of Tuy Phong District.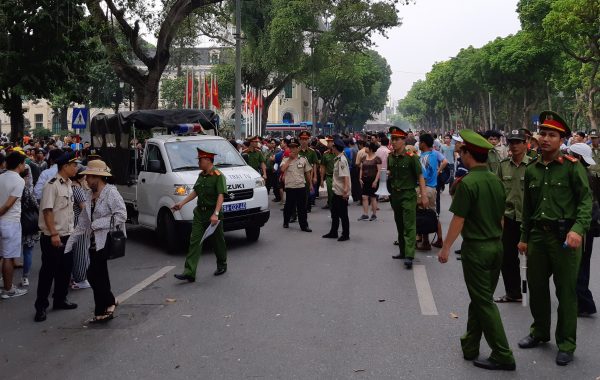 Police disperse a demonstration in Hanoi Vietnam
The incident followed the arrests of two people on Saturday in a southern part of the country for spreading leaflets calling for protests against the legislation, state media reported. Similar demonstrations took place on Sunday in other cities throughout the country, including the economic hub Ho Chi Minh City, and were dispersed by police, activists said on social media.
About 40-50 protesters gathered at Hanoi's Hoan Kiem Lake holding placards reading "Protest against the draft law on special economic zones" and "Protest against leasing land to China".
"The bill is created to give a strong boost to the development of three special administrative and economic units, including Van Don in Quang Ninh province, Bac Van Phong in Khanh Hoa province and Phu Quoc in Kien Giang province, and room for institutional experiments", the government said in a statement.
Vietnam said in May a year ago it planned to open three special economic zones that offer investors greater incentives and fewer restrictions than available in the country at present.
Ties between Vietnam and China have deteriorated as a result of an ongoing conflict over South China Sea islands, which both countries claim. "The National Assembly calls on people to be calm and trust in the decisions of the party and state".