The pamphlet is prompted partly by the "security situation in our neighborhood", meaning the Baltic area, a Civil Contingencies Agency spokesman told CNN in January 2018.
TWEET: "The brochure "If crisis or war comes" is now being released in a new version and sent to all Swedish households".
The 20-page booklet, entitled If Crisis or War Comes, has drawn comparisons to the nuclear attack manuals widely distributed by national governments during the Cold War.
According to the brochure, Sweden's population, which totals 10 million, has a duty to act if the country is threatened.
Scandinavian nations may have a reputation as enlightened and peaceful, but "if Sweden is attacked by another country, we will never give up", the booklet says, adding: "All information to the effect that resistance is to cease is false".
"Even if Sweden is safer than many other countries. threats do exist", said Dan Eliasson, head of the Swedish Civil Contingencies Agency, which prepared the booklet.
While the booklet doesn't specify where an attack might come from, Sweden and other countries in the region have been on high alert since Russian Federation annexed Ukraine's Crimea peninsula in March 2014.
The decision has been taken by the government after repeated Russian violations of Swedish airspace and territorial waters.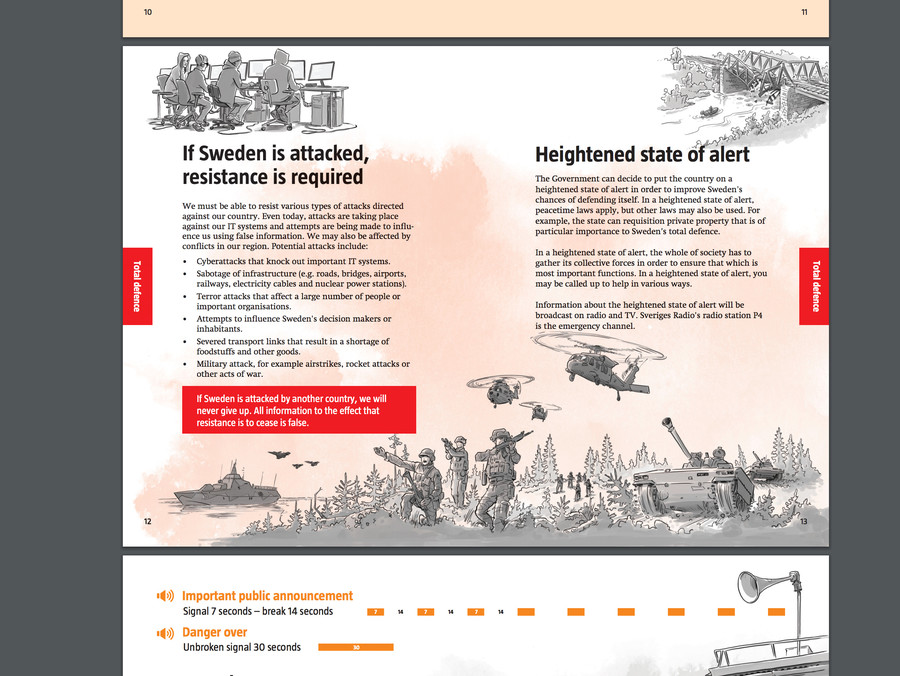 Government of Sweden Reuters
The Kremlin has in the past insisted that it does not interfere in the domestic affairs of other countries and has accused Western powers of stoking "Russophobia".
The brochure is a reflection of Stockholm's concerns over a worsened security situation in the Baltic Sea region over the past few years.
And Stockholm has started reversing military spending cuts and previous year staged its biggest military exercises in almost a quarter of a century, as well as voting to reintroduce conscription and unveilling joint plans with Denmark to counter Russian cyber-attacks and disinformation.
Om krisen eller kriget kommer (If Crisis Or War Comes) explains what foods are best to stockpile in the event of a breakdown of the country's infrastructure, how to secure access to government communications and how to ensure warmth and a supply of water.
It offers examples of food people should store in case of war, suggesting oat milk, tins of Bolognese sauce, salmon balls, tortillas and sardines are good staples.
The pamphlet also describes what an air raid warning sounds like.
Similar leaflets were first distributed in neutral Sweden in 1943, at the height of the second world war.