Carillion PLC (LON:CLLN) shares dropped by almost 30% in late afternoon trading on reports that its lenders have rejected the embattled construction firm's business plan, and that it has lined up an accountancy firm as a standby administrator.
They added: "Based on our current trading assumptions (Dec' 18 EBITDA £188m with material downside risk) and our estimates of the mounting debt ( £1.1bn), likely additional supply chain funding/working capital unwind ( £300m) and pension liabilities (£600m), we now see no equity value".
Reports that creditors had turned down a potential rescue plan sent the firm's shares down by more than 28% on Friday.
Sky News also reported that the company has put accountancy firm EY on standby to oversee an administration if it is unable to secure a rescue deal.
"Suggestions that Carillion's business plan has been rejected by stakeholders are incorrect", the firm said in a statement.
"As part of its engagement with stakeholders, Carillion is in constructive dialogue in relation to additional short term financing while the longer term discussions are continuing".
Carillion also said turnaround proposals on the table were likely to cost shareholders.
The Wolverhampton-based group is the second-largest supplier to Network Rail and maintains approximately half of the UK's prisons as well as roughly 50,000 homes for the Ministry of Defence.
But it is perhaps best known for being one the largest suppliers of services to the public sector.
In July a year ago it won contracts to build Britain's new High Speed 2 rail line, a key project that will better connect London with the north of England.
It also maintains 50,000 homes for the Ministry of Defence, manages almost 900 schools and manages highways and prisons.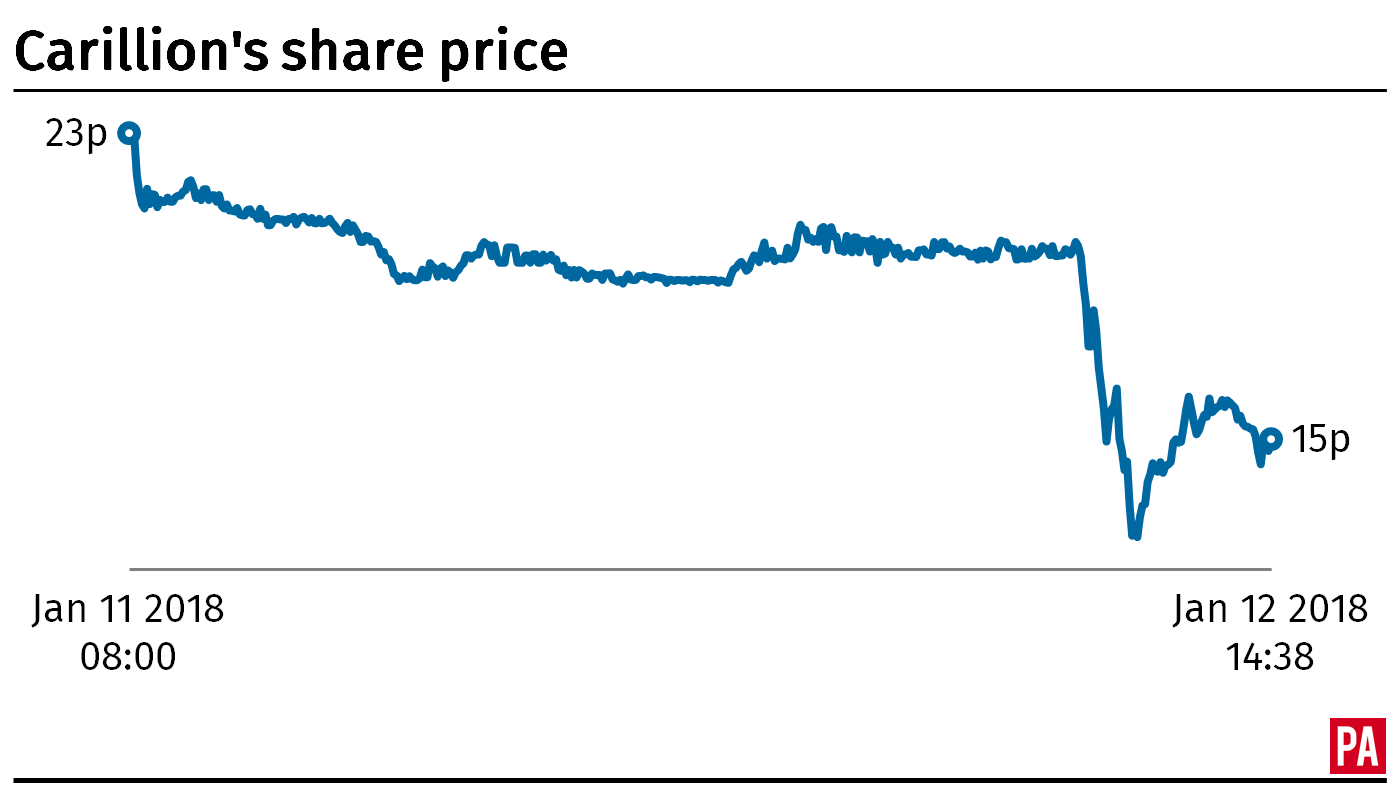 The government held crisis talks over the potential collapse of one of the UK's construction giants
A Government spokeswoman said: "As Carillion is a major supplier to Government it should come as no surprise that we are carefully monitoring the situation while working to ensure our contingency plans are robust".
Spun out of Tarmac almost 20 years ago and having bought Alfred McAlpine in 2008, Carillion has worked on key construction projects including London's Royal Opera House, the Suez Canal road tunnel and Toronto's Union Station.
Mick Cash, general secretary of the Rail, Maritime and Transport (RMT) union, said: "The union's absolute priority at this stage is our members' jobs and their pension rights".
The company provides vital services to hundreds of schools.
Gail Cartmail, assistant general secretary of trade union Unite, which represents more than 1,000 workers at the company, said the government should consider bringing contracts back in-house.
The company held talks with its lenders and advisers in London on Wednesday.
The rescue plan shown to lenders on Wednesday includes handing back some loss-making contracts, revising the terms of others and potentially accepting financial support from the Government if it can not secure it from private sector sources.
"Ministers did meet yesterday, there are ongoing meetings", a spokesman for Prime Minister Theresa May said.
The person familiar with the situation, who asked not to be named due to the sensitivity of the situation, said the government needed to get involved to help prop up the supplier.
Carillion was forced to ask its banks, which include Santander UK, HSBC and Barclays, for support after breaching its loan agreements previous year when it issued a series of profit warnings.
In a note to clients, Peel Hunt's analysts said: "We suspect that given its mounting liabilities, recent press comment, growing customer worries and supply chain hesitancy that Carillion will be forced (by the banks) to accelerate its financial restructuring".