On Dec. 6, Pope Francis appealed for Jerusalem's status quo to be respected and for "wisdom and prudence" to prevail over the city, hours before President Trump's announcement recognizing Jerusalem as Israel's capital, according to the Vatican Radio.
The Pope has described Jerusalem as "a unique city, sacred to Jews, Christians, and Muslims".
He said he hoped "wisdom and prudence prevail, in order to avoid adding new elements of tension to a global panorama that is already convulsed and marked by so many and cruel conflicts".
Trump is expected to formally recognize Jerusalem as Israel's capital and set in motion the relocation of the U.S. Embassy to the ancient city, senior U.S. officials said, a decision that upends decades of U.S. policy and risks fuelling violence in the Middle East.
Arab leaders have warned the Trump administration's decision would subvert decades of USA foreign policy and risk triggering further conflicts and violence in the Middle East.
As Breitbart News reported on Tuesday, Arab, Muslim and European Union leaders have voiced their opposition to the move, suggesting it could create turmoil in the area.
"My thought now goes to Jerusalem".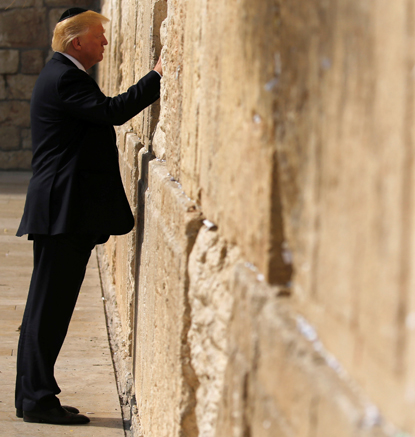 'I Cannot Keep My Silence': Pope Francis Urges Trump to Respect Jerusalem's Status
Jerusalem, the pope said, holds a "special vocation for peace".
The Pope centered his homily on the day's reading from Isaiah (11:1-10), in which the prophet foretells the coming of the Messiah as a shoot that "shall sprout from the stump of Jesse", and says that "the Spirit of the Lord shall rest upon him".
The Holy See recognized the Palestinian state in 2015.
He added that Israel must not allow its own interests to "disrupt what the United Nations has repeated many times, and what has also been the logical and coherent position of the Holy See for all the past decades".
At the meeting, the pope said dialogue between all parties would come only through "recognising the rights of all people", noting that the Holy Land was the "land par excellence of dialogue between God and mankind".
"I wanted, also in this case, to express the closeness of Christ and of the Church to a people that has suffered due to conflict and repression, and which now is slowly walking toward a new condition of freedom and peace", he said. 2 visit to Bangladesh was equally important, and focused largely on the need for "respect and dialogue" between Christianity and Islam, as the country is a majority Muslim nation with a small Catholic community.